FEATURE:
"Dream Vacation Home in Florida" on Ocean Home
The family's vision for this beach house was to create a legacy home for generations to come.
The modern interiors feature unconventional design solutions, state of the art technology, and the ability to accommodate multiple families simultaneously. To take full advantage of the amazing beachfront views, the second and third floors have motorized radius glass walls that open and stack behind curved walls, creating living spaces that blend the inside with the out. The dream vacation home is located in Florida's prominent 30A.
We are excited to have our Coastal Luxury home featured on Ocean Home. Read the full article here.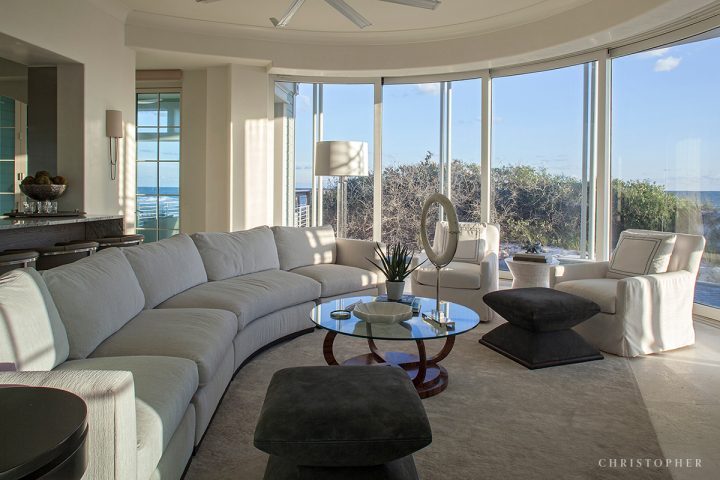 To create a home that is comfortable for multiple families to use simultaneously, this luxury retreat encompasses four kitchens, a theatre, ten bathrooms, four master suites, and multiple bunk rooms. With low maintenance being a top priority, 90% of all fabrics in the home are performance fabrics that can handle all the elements of beach living including wet bathing suits and suntan lotion.
Durable finishes and materials – such as stainless-steel cabinetry and granite countertops in the main kitchen along with coral stone flooring – were carefully chosen to endure the elements of living on the coast.
To take full advantage of beachfront views, the team designed two motorized wall systems on the second and third levels that stack behind curved wall openings, allowing access to the radius infinity pool and sundecks. Lighting played a prominent role in the design of the interiors. Custom designed decorative fixtures along with RGB LED lighting can be seen throughout this 8,000-sf home. Back-lit floating glass stairs and onyx countertops in two kitchen areas create the wow factor the family craved.
Several tradesmen were commissioned to fabricate custom furniture pieces in various rooms, including the only traditional piece of furniture, a custom 7-foot Rosewood dining table with a center starburst pattern. Other pieces include a modern, custom 24-foot radial sofa hugging the curved wall in the media room, and a custom bed swing in one of the bedrooms.
The close proximity of the house to the adjacent State park, protected sand dunes, and surrounding endangered native animals played a crucial part in the construction. After purchases were made, furnishings were delivered under the allotted budget without sparing any expense.